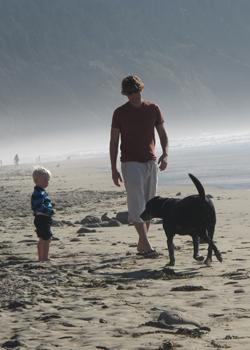 Scott Weber, PT-CLT
---
Scott grew up in a small dairy farming town in southwestern Wisconsin. He's worked with health care providers of all sizes, inspiring him to found Alpine Physical Therapy in 2006 with Rob Hollander. At Alpine, Scott is able to practice the type of physical therapy he dreamed about since graduating from PT school in 1998. Email Scott
Scott's Family
Scott is the proud father of two boys, Dane (born in 2007) and Vaughn (born in 2010), and a daughter, Piper (born in 2013). He married the love of his life, Tania, in 2002.
Why Scott Loves Central Oregon
It's simple: the great outdoors. When he's not applying band-aids onto one of his three children, you can find Scott fly fishing, snowboarding or working on his golf game.
Education & Training
---
– University of Wisconsin – Masters in Physical Therapy Program
– Teaching Assistant for Marquette University
– Advanced Studies in Manual Therapy, Deep Tissue Work, Therapeutic Exercise, and Active Release Techniques
Specialties
---
– Outpatient Orthopedics
– Sports Medicine
– Injured Worker Rehabilitation
– Superior Personalized Care
– Lymphedema Treatment
– MDT/ART