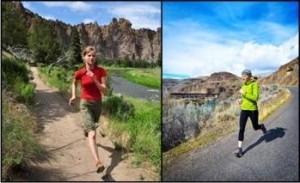 June 8th is the one event that all Bend trail runners look forward to, Footzone's annual Dirty Half.  What better way to kick off the summer then a 13.1 run through the beautiful Deschutes single track forest with 800 of your favorite friends and a post race brew and burrito. This got us thinking a little here at Alpine as we often get running related questions from our patients who are either looking to get started into a regular running program or may have experienced a running related injury. One question that is often asked is:  "is it better to run on the trail then it is on the road?''  A great question indeed and the answer may be a little unexpected.
Running is an impact sport that places stress on the joints and muscles throughout the body. These stresses can be beneficial to the body by increasing strength, cardiovascular endurance and overall health, but can also lead to repetitive stress that can cause injury to the tissues.  There are many ways of lessening the stress of this impact which range from proper running form, to shoe wear, to training intensity, and varying the surface/elevation. Today we will discuss the pros and cons of the trail vs. the road. It is often thought that a softer surface will lessen stress to the body, however, a recent article in the New York Times notes that runners who prefer softer surfaces don't always have fewer injuries and recent studies have shown that the body adapts to different surfaces no matter how hard the surface is. So what are the pros/cons to both?
Road Running – Pros
convenient (you can throw on your shoes and leave from your house)
consistent surface
simulates race surface for many community runs
safe in well lit areas for those who run at night
good way to see your community
Road Running – Cons
very hard surface which can increase impact for those with poor tissue quality, arthritis history or who are recovering from injury
consistent surface stresses same tissue regions
street traffic  (cars/bikes/pedestrians)
tripping obstacles (cracks in road, altered surface, poor quality)
Trail Running – Pros
soft surface for those that have impact related injuries
varied surface elevation allows for variable stress to tissue allowing force to be transmitted throughout body
varied surface increases strength and balance throughout body
great way to get out and see nature's scenery!
Trail Running – Cons
ankle injury risk
difficult for those with balance problems
up and down elevation can be hard on those with knee/hip pain
not as convenient for those with time issues
can be hard on shoes
At the end of the day, it really comes down to personal preference and what works for the individual as there are benefits to both. It should go without saying that proper shoe wear, training and form are of upmost importance and one can work towards running on both surfaces. Running is a great form of regular exercise and we are blessed here in Central Oregon to have an endless amount of options to get out there and put some miles down. Whether you prefer the road or the trail the end result is the same…you'll feel great and finish with a smile on your face (at least you will after your post run refreshment!).